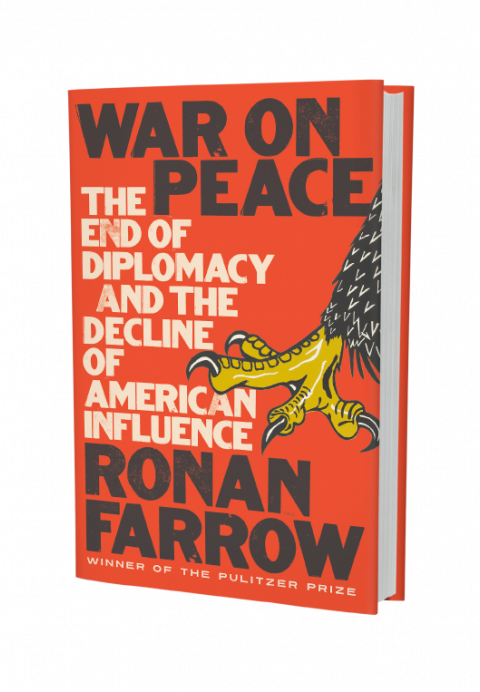 A harrowing exploration of the collapse of American diplomacy and the abdication of global leadership, by the winner of the 2018 Pulitzer Prize in Public Service.
US foreign policy is undergoing a dire transformation, forever changing America's place in the world. Institutions of diplomacy and development are bleeding out after deep budget cuts; the diplomats who make America's deals and protect its citizens around the world are walking out in droves. Offices across the State Department sit empty, while abroad the military-industrial complex has assumed the work once undertaken by peacemakers. We're becoming a nation that shoots first and asks questions later.
In an astonishing journey from the corridors of power in Washington, DC, to some of the most remote and dangerous places on earth—Afghanistan, Somalia, and North Korea among them—acclaimed investigative journalist Ronan Farrow illuminates one of the most consequential and poorly understood changes in American history. His firsthand experience as a former State Department official affords a personal look at some of the last standard bearers of traditional statecraft, including Richard Holbrooke, who made peace in Bosnia and died while trying to do so in Afghanistan.
Drawing on newly unearthed documents, and richly informed by rare interviews with warlords, whistle-blowers, and policymakers—including every living former secretary of state from Henry Kissinger to Hillary Clinton to Rex Tillerson—War on Peace makes a powerful case for an endangered profession. Diplomacy, Farrow argues, has declined after decades of political cowardice, shortsightedness, and outright malice—but it may just offer America a way out of a world at war.
"With astonishing reporting and gripping prose, Ronan Farrow tells the powerful story of the gutting of American diplomacy.… War on Peace is an indispensable and fascinating revelation of what diplomats actually do for our country and why undermining them is so dangerous. Farrow is a riveting storyteller with a great eye for colorful characters. This is one of the most important books of our time."
—Walter Isaacson, author of Steve Jobs and professor of history, Tulane University

"Ronan Farrow has scooped us all (again). And it is no wonder. A gifted writer with a powerful intellect and a passion for truth, Farrow has become one of this generation's finest journalists and War on Peace a book that will be required reading for generations to come. It is perhaps the most riveting and relatable book on foreign policy and diplomacy I have ever read. I have covered these same corridors of diplomatic power, these same bloody war zones, yet on every page of War on Peace I was astonished by what I learned."
—Martha Raddatz, ABC News chief global affairs correspondent and author of The Long Road Home

"US diplomacy has failed to keep up with the times. Part insider account and part sober analysis, War on Peace traces the fall of American diplomacy and pulls no punches. Only someone as incisive and unflinching as Farrow could have written this book—and we should all be thankful that he did. A must-read"
—Ian Bremmer, editor-at-large, Time magazine, and president, Eurasia Group
"It's hard to imagine there is a single important diplomat Ronan Farrow didn't speak to in the course of reporting this remarkable account of American diplomacy in decline. This is no surprise: who better than a diplomat-turned-investigative-reporter to bring this deeply reported, acutely observed, and morally righteous chronicle of a nation that has all but abandoned diplomacy in favor of high-tech, high-ticket military action at just the perilous moment when steely and patient diplomacy is needed more than ever. This scoop-laden book is essential reading for those of us who yearn for peace and American moral leadership on a fractious planet."
—Lydia Polgreen, former editorial director, New York Times Global, and editor-in-chief, HuffPost

RONAN FARROW is an investigative journalist who writes for The New Yorker and makes documentaries for HBO. He has been an anchor and reporter at MSNBC and NBC News, and his writing has appeared in publications including The Wall Street Journal and The Washington Post. He is a winner of the Pulitzer Prize, the George Polk Award, and the National Magazine Award, among other commendations, and has been named one of Time magazine's 100 Most Influential People. He is also an attorney and former State Department official. He lives in New York City.
W. W. Norton & Company • Independent Publishers since 1923